Something You Must Know About Diabetic Shoes
No.1  The Difference Between Diabetic Footwear and Regular Shoes
Diabetic footwear is designed specifically to address foot conditions that are particular to persons with diabetes, such as skin breakdown caused by poor circulation, foot ulcers, numbness, or diabetic neuropathy. But what differentiates diabetic shoes from regular shoes?

Special features of diabetic footwear
Diabetic footwear must contain specific features and be designed and constructed in a way that alleviates the foot conditions to which diabetics are prone. The best shoes for diabetics include the following special features and qualities:

● Non-binding uppers that insure that there is no pressure on the foot. In contrast, regular shoes often cause pressure in the forefoot area or the back of the shoe as they are often constructed from firm materials and in a way that might irritate bunions, the toes, or back of the heel.

● Extra depth design that provides a pressure-free fit and can accommodate thick orthotic inserts.

● A deep toe box that provides extra room for toe movement and avoids pressure on the toes.

● Lightweight, cushioning soles that facilitate mobility and stability, and reduce impacts on the foot.

● Special orthotic insoles that provide arch support, reduce pressure on the bottom of the foot and offer good cushioning.

No.2  Advantages Of Diabetic Footwear
We can now see that the construction and design of shoes for diabetics offer some very attractive advantages. In addition to providing pain relief and enhanced levels of comfort, diabetic footwear can also help do the following:
Provide better motion control
Promote circulation
Prevent skin breakdown
Prevent the formation of calluses
Reduce the occurrence of foot problems in high-pressure areas of the foot.

Why can't I just wear comfortable, regular shoes if I have diabetic neuropathy or other foot problems related to diabetes?

The simple answer to this question is another question: why take that risk? Many of the foot problems caused by diabetes can turn into more serious health complications, but they can also be prevented. It is just common sense to take measures that promote better foot health and overall health, i.e., wearing the right footwear. This is especially true when this footwear is often covered by insurance.

No.3  Can People Without Diabetes Wear Diabetic Footwear?
Of course! In fact, it is quite common for non-diabetics to purchase diabetic shoes precisely because they provide so much comfort and support. They are also great for foot problems that are not necessarily related to diabetes such as heel pain, ball of the foot pain, blisters, flat feet, wide feet etc.

No.4  Where can I find the best shoes for diabetics?
Browse wmshoe's selection of shoes for bunions to find the perfect match. Innovative  Diabetic Footwear work wonders to relieve pain and make your life easier.https://www.wmshoe.com/collections/diabetic-footwear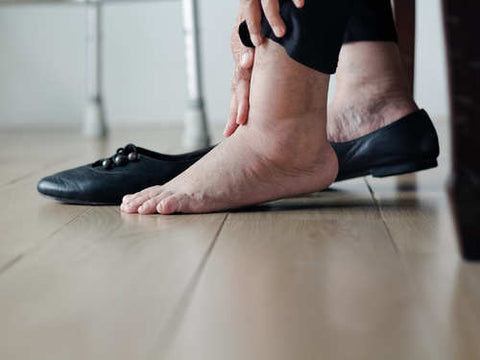 ---